.
Upcoming Training Dates
December 17, 2016 9 am – 3 pm MANDATORY for all volunteers.
December 18, 2016 9 am – 3 pm This is a voluntary training day however it is recommended to attend.
---
Welcome to the Calabogie CADS. Visit the following pages to gather more information regarding the program.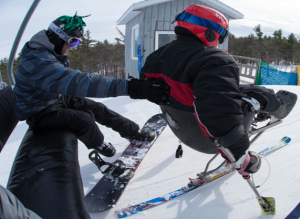 The Goals of the Calabogie Program:
Is to continue providing adaptive ski/snowboard learning opportunities to disabled children and adults emphasizing safety, fun, and learning as our priorities (in that order). As a result, building awareness and self-confidence in individuals who in many cases would be shut-ins during the winter months
Background:
Entering its 12th season, the Calabogie Adaptive Ski Program (Sunday program) has grown from its initial base of 8 skiers assisted by 12 volunteers to over 40 skiers assisted by 65 volunteers.
Also is entering its 11th season is a ski day for "Community Living" disabled adults from Renfrew and Arnprior. This season, 25 – 30 skiers are expected to be assisted by approx 30 instructors and volunteers from the CADS-NCD family on the first Monday in February.
The Winter Sports Clinic (WSC) for injured military personnel has been held for the past 5 years and this year is anticipated to be bigger than ever. With 15-20 Canadian soldiers and up to 10 US soldiers (assisted by their support staff) expected to attend, learning to ski and snowboard, and the return of sledge hockey, the week-long clinic will offer lots of excitement.
Providing CADS instructor certification for Calabogie Peaks Ski School continues to be a top priority to ensure that the ski school is able to support instruction for disabled children who come on weekday ski trips with their classmates.
The development and subsequent building of the Adaptive Snow Sports Center of Excellence meeting facility and our new equipment room in 2012 enables the delivery of a world class program.
Of course, all this is possible thanks to our program donors (keeping the cost down) and most importantly…..our volunteers. Anyone interested in helping out (even if you are not a skier) are urged to contact any of our Management Team listed on our website (www.cads-ncd.ca/calabogie). If you do, be prepared for lots of smiles.
Volunteer Training:
All of our new volunteers receive a minimum of two (2) days on hill training. Lift tickets and ski jackets are provided. Additional training and certification courses are held throughout the year, Ski improvement sessions provided by certified CSIA/CASI instructors are also available to improve your own skiing. An annual potluck supper and ad hoc get-togethers ensure ongoing camaraderie.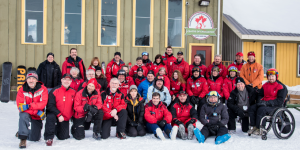 Click to Donate to CADS – NCD via Canada Helps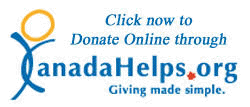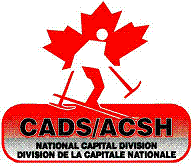 Division Office: 1216 Bordeau Grove, Ottawa, ON K1C 2M7
Charitable Donation Number: 11905-1514-RR0001
Tax Receipts Available